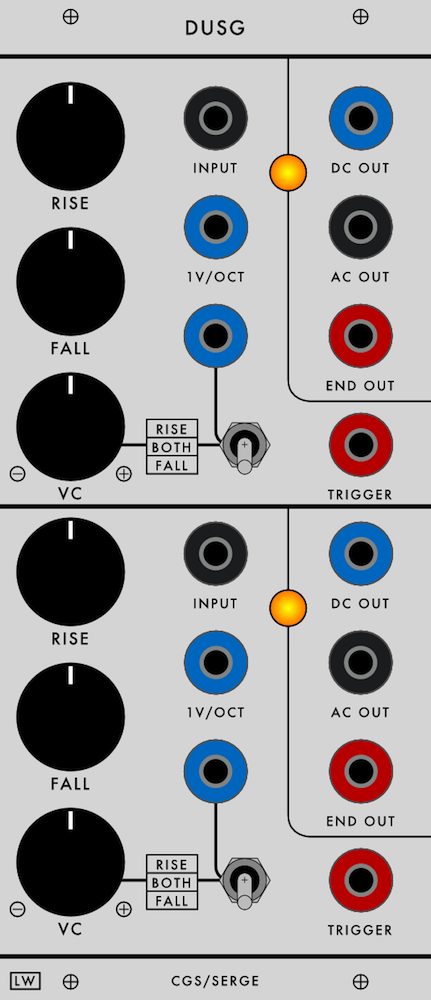 This following page details a possible means of construction for the CGS/Serge DUSG utilising the single function 4U panel from Loudest Warning.
The PCB's (CGS 114) are available from Ken Stone here and more detailed construction notes (and information about the module) are here
Loudest Warning DUSG panels are available from Thonk in the UK and Synthcube and Modular Addict in the US.
This panel utilises Clee's 4U Bracket, also available from Synthcube and Thonk.
What is a DUSG? The DUSG has two independant USG's, each of these consists of a positive slope generator (RISE) and a negative slope generator (FALL) combined to form one 'universal slope generator'.
What can you do with the DUSG? It can be an AR generator, VC slew limiter, VC LFO, VCO, VC trigger delay, VC clock, VC low-pass filter, VC pulse divider and envelope follower. Further reading here.
For those using Eurorack, similar or identical functionality is available in
http://elby-designs.com/contents/en-us/p732_CGS775_-_Serge_VCS.html
http://elby-designs.com/contents/en-us/p865_ES114_-_Universal_Slope_Generator.html
http://www.doepfer.de/a1712.htm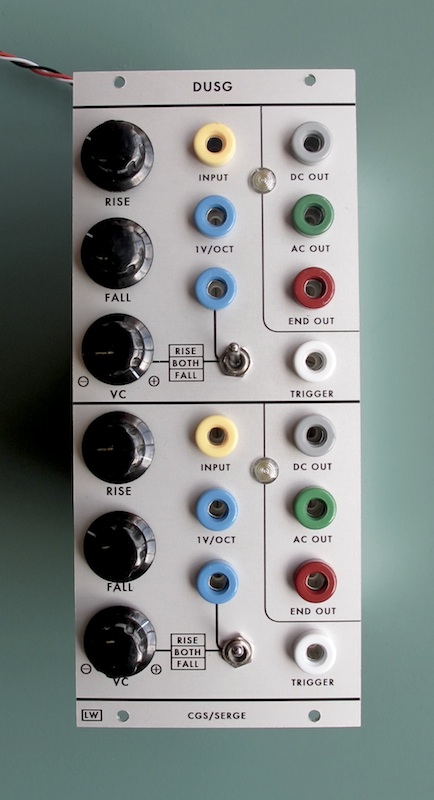 Modifications
PLEASE NOTE – as drawn in the wiring diagram pots act CW = slower/longer Rise/Fall times. Reverse if you prefer the opposite direction. MA and MB are swapped, this message will disappear when I've redrawn the diagram.
Connection diagram for the LW DUSG panel, note that for the sake of clarity only half the connections are shown, hopefully it makes sense!
Here are some pictures of a completed build.
Connection diagram for DTG panel:
SSG / Noise / DTG panel: