Septembre 2021: Page added…
Page this has general information about mods and patches and other things
Sing To Me: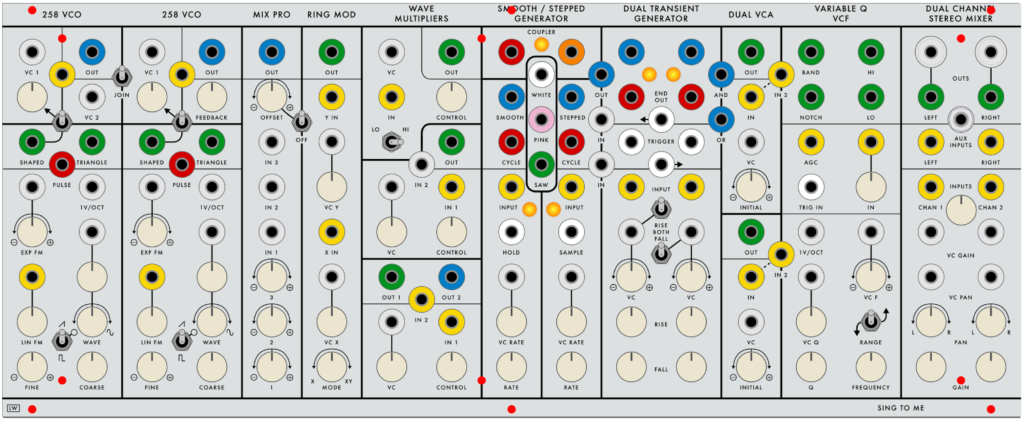 There are quite a few version of this around, some have different names.
258 VCO -> Triple Wave Shaper implementation: Above the 258 VCO's is a Serge Triple Wave Shaper, normally this has three sections, but on panels with the above design the left hand shaper is one section, the right hand is two sections in series with VC 1 input tied to both of teh two sections simultaneously – configuration:
Bonus mixer between SSG and DTG: This is a simple unity gain mixer with two inputs and one output. On the other side of the DTG (between it and the Dual VCA) are two more outputs which might be labelled PEAK/TROUGH, MIN/MAX or AND/OR, these are all different names for the same thing, that is minimum / maximum outputs derived from the two inputs to the bonus mixer. Some mixers also have a Full Wave Rectifier output.
Most / all other modules are stock and info about use of these can be found on the internet, but here are some interesting things here:
https://sergemodularinfo.blogspot.com/
Great information on Serge in general and the Wave Multipliers in particular!
Patch Sheets:
Nominally A3 but can be printed at A4 – save your patches!
ORANGE STREET SPECIAL PATCH SHEET A3 V1
2021 SING TO ME PATCH SHEET A3 V1